Port Towns; Where and What to Eat
Here is a breakdown of what to eat, as you travel between port towns and the food options vary from state to state in Australia. You would be doing yourself a disservice by not trying all of the local delicacies.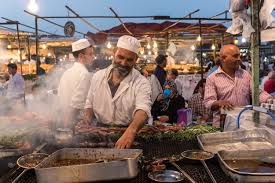 Coffee; Queensland and the surrounding areas are known for their rich, flavourful coffee, due to a more humid and wet climate. Southern areas like Victoria have great coffee as well.
Fresh Fruit; Queensland and Brisbane are known for their bright, refreshing fresh fruit, guaranteed to make your mouth water and your body thank you for the rich antioxidants and nutrients.
Beef; Queensland cattle ranks with the best in the country, but Rockhampton is actually the nation's beef capital.
Dumplings; though this may not seem like part of your typical Australian meal, Melbourne has some great Chinese food, including dumplings that are to die for.
Cheese; Places like Gippsland are known for rare and unique cheeses that are local and tourist favourites.
Apples; Tasmania is actually nicknamed the Apple Isle for its abundance of apples and apple products.
Beer; Tasmania is known for some of the best hops in the country, meaning it is home to some of the tastiest beer around. Craft beer is a big industry in this area and throughout the country.
Wine; Well what would this list be without wine? If you've never tried, or at the very least heard of Australian wine, then you are missing out. Most of the wine is made in the Southern regions of the country and some of the port towns feature great vineyards for you to get the full experience.
Seafood; whether you love oysters or tuna, the seafood market in the South of Australia is fantastic. The seafood is fresh, so it can be bought at seafood markets or tried at various restaurants.