Sydney to Hobart Yacht Race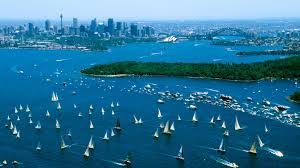 There are several special nautical events in Australia as sailing, boating and other nautical pastimes are popular for visitors and locals alike. One of the biggest annual events is the Rolex Sydney Hobart Yacht Race. The event is put on by the Cruising Yacht Club of Australia on boxing day each year. The event starts in Sydney and, as the name suggests, finishes in Hobart for a total of over 1100 km from start to finish. Not only is the race long in length but is also said to be one of the most challenging races worldwide.
When the race first started, it did not start as a big event, but rather a cruise between the organizer Peter Luke and a few of his closest friends and was for those who preferred cruising to racing. That was how it played out until a British Navy officer suggested that the cruise be made into a race and thus this event came to fruition all the way back in 1945. Since then, it has grown exponentially each year and is now one of the top three yacht races in the entire world with this year's race marking it's 74th year and expected to be the biggest yet.
The Tattersall cup is awarded to whoever has the best boat based on several factors such as the length and dimensions of the sail associated with the yacht. The line honours is awarded to the first boat to cross the prestigious finish line which is usually given to the biggest yacht in the race.
The record for the race is 1 day and 9 hours, for a total of 33 hours to completion and was set in 2017, meaning the record could actually be broken in the upcoming 2018 race because the previous record had been set in 2016.